Pregnancy Chiropractic Care in Contoocook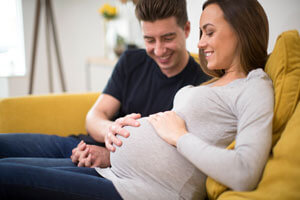 Did you know research supports that pregnant moms under chiropractic care have healthier pregnancies and easier deliveries? Your labor will be shorter and more straightforward with a lesser chance of complications when you're well-adjusted. You might also experience issues such as low back pain, which are common in pregnancy. We can help you stay comfortable through each trimester.
Keeping Your Safety in Mind
During your pregnancy, chiropractic is one of the safest choices you can make for yourself and your baby. It doesn't involve any risks like you face when you take medications. Dr. Amy has a gentle technique that she modifies for our expecting moms. Our specialized tables have a drop piece built into them to accommodate your belly.
We believe in providing individual care for each of our patients. We'll talk about your concerns, then give you a thorough examination during your first visit with us. After analyzing your case, we'll make recommendations to you based on our findings. The frequency of your plan will depend on the nature of your problem and the cause of the issues you're having.
We'll likely recommend more frequent visits when you first begin care. Seeing you more often will allow us to start helping activate your bodies innate intelligence, and begin the healing process which comes with improved spinal alignment.
We encourage all of our pregnant patients to bring their baby to see Dr. Amy as soon as possible after birth. You can even stop by on the way home from the hospital. One of our moms gave birth to a daughter with a normal, healthy delivery. Soon however, the mom realized her baby was unable to turn her head to one side. During birth, there was a problem that caused a vertebral subluxation in the baby's neck. It left her unable to turn her head in both directions.
After just 3-4 visits, Dr. Amy was able to correct the vertebral subluxation. The baby was fine and could turn her head fully in both directions. The younger our patient is, the more quickly they respond to what we do. That's why we encourage regular pediatric care.
Phone Consultations Available
If you'd like to learn more, contact us now to schedule a free phone consultation with Dr. Amy. She'll discuss whether she thinks you could benefit from pregnancy care Contoocook. Call today!
CONTACT US »
---
Pregnancy Chiropractor Contoocook, Hopkinton, Henniker NH | (603) 746-5353